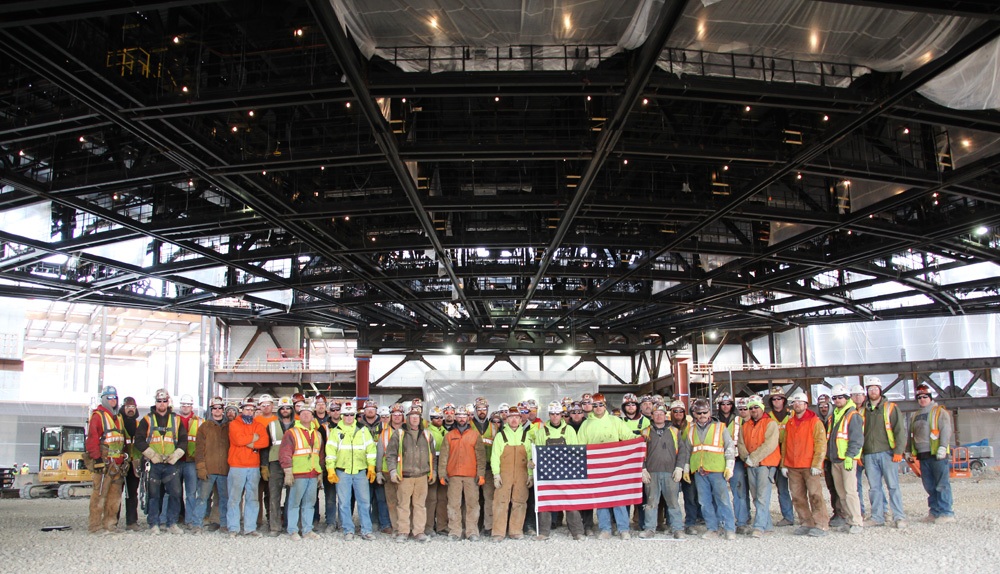 The design of large auditoriums always pose architectural challenges. This is especially true if the auditorium is built underground. The design of the Deep Space auditorium in Wisconsin is truly unique. While at first glance, what looks to be a cave carved into a hill reveals itself to be an ultra-modern 11,400 seat, 830,000 square foot underground auditorium. The company that commissioned this architectural marvel is the Epic Systems Corporation, the world's largest provider of electronic medical records systems. This structure required over 17,000 tons of structural steel to create, and posed some serious design and construction challenges. At Lubrite® Technologies, our extensive capabilities in creating bearings for large scale projects made us an excellent fit to provide customized products for Deep Space.
Our reputation and experience in creating bearings for large complex structures led the project leaders to select Lubrite® bearings to support the roof of this mammoth structure. The design of these bearings had to take many important factors into account. This is one of the largest underground structures in the United States, and unlike most arenas, this roof had to support thousands of tons of soil, while accommodating the natural movement of earth. Lubrite® bearings were the natural choice to support this roof.
In addition to these structural considerations, time was of the essence. Epic Systems had a strict time frame for construction in order to complete the auditorium in time for their annual users' group meeting. This event brings 15,000 employees and customers to the region with an economic impact of $6.5 million. Keeping in mind the unique construction requirements and the timeliness required we put our full capabilities to work. We employed our design, fabrication, and manufacturing capabilities (including all necessary proprietary lubricants) to ensure our bearings allowed the structure to move as necessary. The bearings were also completed in a speedy manor and shipped to our customer within the required timeframe. The contractor was impressed with our work, recognizing the flexibility required to meet their unique demands in time for the 2013 debut of the auditorium.
To learn more about this project, or how Lubrite® can help with your challenging bearing requirements, please contact us directly.