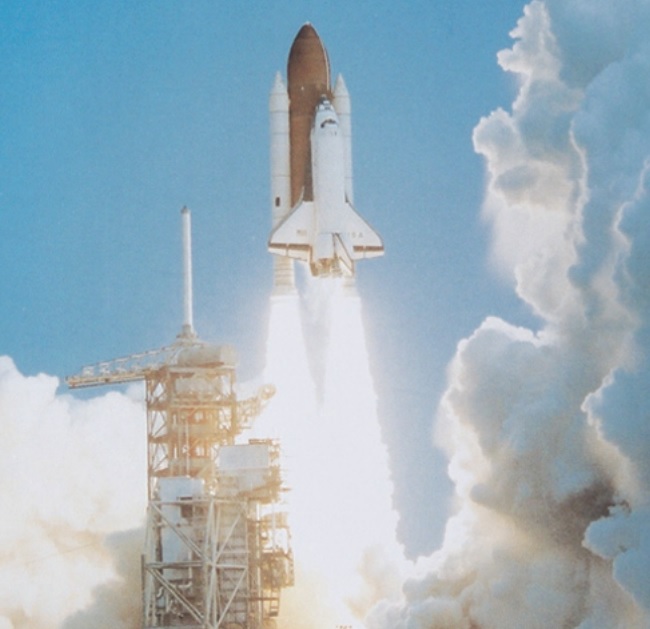 Lubrite® Technologies' innovative self-lubricated bearings have been supporting heavy loads since their introduction in 1897. Over the past century the highest profile projects in the world rely on Lubrite® bearings to accommodate movement. At NASA's John F Kennedy Space Center, large moveable structures are needed to accommodate both the launch and assembly of space vehicles, and NASA relies on Lubrite® to make sure this happens smoothly.
When NASA committed to launch the final series of space shuttles, it knew that the rotary bridges at Launch Pads 39 A&B needed to be updated. NASA contracted Lubrite® to design and manufacture the main bearing that facilitates the movement of these structures. Lubrite® designed, engineeered, and manufactured Lubrite® Spherilube Assemblies, that enabled the complex procedure of loading a space vehicle to proceed without complication. Lubrite® has long specialized in designing and fabricating unique and large bearings for all different purposes. However, the massive size and engineering considerations unique to this structure posed some special challenges. Our engineers designed the Spherilube assemblies to operate flawlessly under extreme loads and exposure to heat and salt water. We used our most advanced machinery to manufacture these bearings. Due to the high profile nature of this project, it was imperative to machine the bearing to the highest levels of accuracy. Representatives from NASA visited us on multiple occasions during the manufacturing process to ensure the redesigned bearing was proceeding according to schedule. We were able to complete the main bearing while maintaining the tight and specific tolerances required by our customer, ending the process with an on-time delivery. By using our time-tested and reliable bearing technology, NASA was able to supply the payloads for the final Space Shuttle launches quickly and smoothly.
We continue to supply our self-lubricating bearings to companies large and small for applications such as bridges, offshore equipmnent, nuclear power plants, and many others. We would be happy to assist you in learning how our products can benefit your project. For more information about the bearings used in these projects, or to fine out how Lubrite® can fulfill your specilized needs, please contact us directly.
---
While the Space Shuttle program officially retired its vehicles in 2011, the Kennedy Space Center is far from idle. NASA continues its space exploration leadership at the Kennedy Space Center, and is in the process of preparing for the Space Launch System (SLS) rocket and Orion spacecraft. The SLS will be the most powerful space vehicle ever constructed, eclipsing both the Apollo and Space Shuttle programs. These mammoth exploration vehicles will be assembled in the Vehicle Assembly Building (VAB). The VAB was completed in 1966, and was originally constructed to accommodate the Saturn V rocket. This mammoth building contains 120 million cubic feet of space, allowing it to facilitate the largest construction projects imaginable. The VAB is undergoing a thorough update to accommodate these new projects. In order to construct such ambitious projects, it's vital to have modern and flexible assembly structures. Self-lubricating bearings from Lubrite® Technologies are essential for the new assembly platforms, as the bearings facilitate the movement of the platforms to accommodate construction of these vehicles.
Our experience and reputation with the Space Center made Lubrite® bearings the natural choice for these new moveable assembly platforms. Lubrite® offers a unique combination of expertise, engineering and manufacturing capabilities enabling us to complete large, complex projects. Our highly experienced engineering staff designs all of the customized bearings. Manufacturing is completed in our own foundry, as well as in a large and modern CNC machine shop. These capabilities allow us to manufacture our world renowned self-lubricating bearings. With our help, NASA was able to fabricate the new assembly platforms in an accurate and timely manner, creating the ability to construct even the largest rockets and boosters for future space projects. For more information about the bearings used in this project, or to find out how Lubrite® can fulfill your specialized needs, please contact us directly.